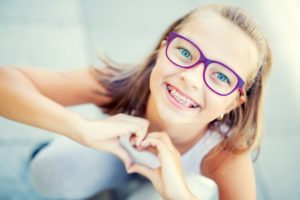 Is your child feeling glum or frustrated about wearing braces? With all the new rules, diet restrictions, and metal wires and brackets, adjusting to life with braces can be a challenge. Thankfully, there are plenty of ways you can help make wearing braces more fun for your child! Here are seven easy but effective tips for helping your child enjoy the process of straightening their precious smile.
1.) Stay Positive
It's natural for your child to feel a little self-conscious about their appearance after getting braces. To help them regain their confidence, encourage them to smile and reassure them that they still look like themselves.
2.) Make Dental Care Easier & More Exciting
It takes a bit more time to brush and floss while wearing braces. A few new tools like flavored toothpaste, a water flosser, or an electric toothbrush can help make keeping their oral health on track easier, more effective, and more fun!
3.) Become a Smoothie Scientist
Not only are smoothies a delicious and nutritious treat that's safe for your child's braces, but they're an excellent choice for easing the dental soreness that comes with moving teeth. You can make smoothies at home by trying out different combinations of their favorite fruits and vegetables!
4.) Become a Braces-Friendly Baker
When holidays, birthdays, or other special occasions come up, many of your child's favorite treats may be off-limits because of their braces. However, there are still plenty of sweets they can indulge in (in moderation) during their orthodontic treatment. Try going online to find recipes for gooey brownies, ultra-soft cookies, and home-made ice cream!
5.) Colored Bands Can Brighten Your Child's Smile
In most cases, your child will be able to pick out colored bands to put on the brackets of their braces during their routine orthodontic checkups. Beforehand, talk with your child about which colors they want to choose to make their braces more personalized or to match upcoming holidays.
6.) Use Positive Reinforcement for Orthodontic Checkups
Many children dread their orthodontic checkups and adjustments because of the dental soreness they can cause. Taking your child out for frozen yogurt, a movie, or some other fun and distracting experience will help them associate these necessary visits with more positive emotions.
7.) Plan to Celebrate Their New Smile
Get your son or daughter excited about completing their orthodontic treatment by planning a celebration with them. After all, finally getting a straighter smile with braces is an achievement that's worth celebrating! While they'll be enjoying the benefits of straighter, healthier teeth for many years to come, a tangible celebration will help them stay focused and excited about reaching their goal.
The journey towards a straighter smile with braces isn't always a smooth and easy one. Use these seven easy but effective tips to help make the experience more fun for your child!
About the Practice
Simply Orthodontics is proud to serve smiles of all ages in Framingham and the surrounding communities. With state-of-the-art technology and the latest orthodontic techniques, you can rest assured that your child will receive the high-quality, personalized care they deserve. Perhaps most importantly however, is that you'll have a team of dedicated experts with you and your child every step of the way to make sure their treatment goes as smoothly as possible. To learn more, we can be contacted online or at (508) 250-0170.