Invisalign Clear Aligners – Framingham, MA
Get More Freedom with Removable Trays
Traditional braces involve a dramatic change to your lifestyle, including changes to your oral care routine and your diet, not to mention accommodation for metal brackets and wires in your smile's appearance. If your misalignment is mild or moderate, Invisalign's clear aligners are ideal for a bit more freedom in your daily life. Out of the clear aligner systems out there today, Invisalign is one of the most trusted and customizable brands, and we're proud to offer this treatment right here at Simply Orthodontics Framingham, so don't wait to call us and see if you qualify for orthodontic treatment with Invisalign clear aligners in Framingham, MA!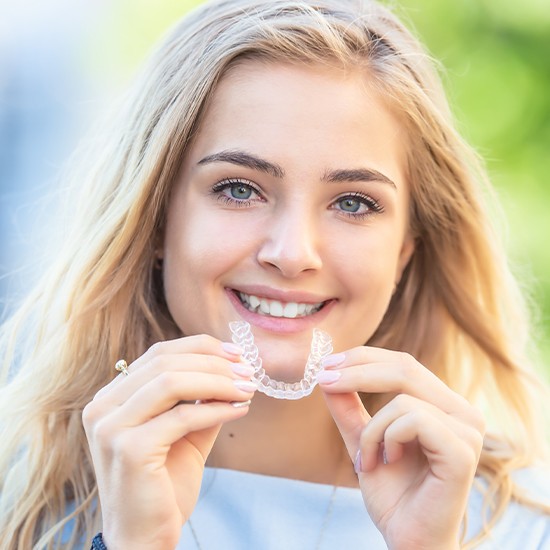 How Does the Treatment Process Work?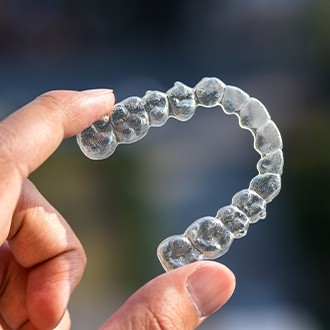 Basically, patients wear plastic trays wear plastic trays on their teeth for about 22 hours every day, gently shifting teeth. Each pair of aligners represents a different stage of your treatment. Over the course of several months, teeth will move into straighter position. During this process, you won't have to visit our orthodontic office as often for checkups on treatment since the entire series is designed and created from the beginning. After you complete your Invisalign series, you'll wear a retainer to prevent any relapses and to keep your teeth straight.
What Can I Expect During Treatment?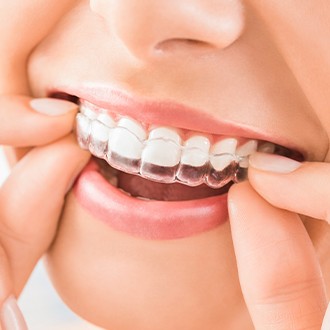 It is imperative that you wear the aligners for a minimum of 20 hours per day, but we recommend wearing them for at least 22 hours to maximize results. After all, wearing them is what causes your teeth to shift and reach a healthier and straighter alignment. Since you can remove the aligners, you can eat pretty much any and all foods you enjoy and you don't have to adjust your oral care habits, unlike with traditional braces. The only caveat is that you need to regularly clean the aligners to maintain their transparent and store them in their dedicated case when not in use so that you don't misplace or lose them.
Am I Eligible for Invisalign?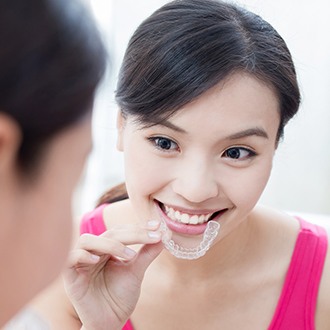 Invisalign treatment is not suitable for every patient. For example, if your teeth are severely misaligned or you have a badly uneven bite, traditional braces will be more effective for your smile. Additionally, crooked back teeth require traditional braces for the best results. Finally, you can pursue this treatment only if your permanent teeth are erupted, so children will likely not qualify. However, traditional methods might be better for you if you could struggle to follow instructions and wear the aligners as directed.
Invisalign Frequently Asked Questions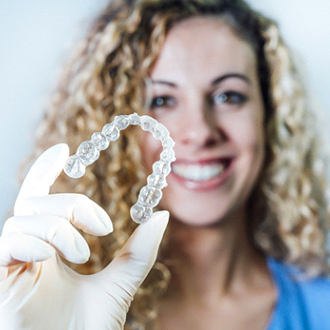 Are you ready to turn crooked, misaligned teeth into a straight, flawless smile? Our team at Simply Orthodontics Framingham would love to help! If you have any specific questions about Invisalign you would like answered before moving forward, don't hesitate to contact our orthodontic office so our knowledgeable team can provide you with the answers you need. Otherwise, you can keep reading for the answers to the most frequently asked questions from patients considering Invisalign!
Do the Invisalign Trays Hurt?
Not surprisingly, one of the first questions that comes up is, "Will the trays hurt?" Fortunately, treatment with Invisalign doesn't involve metal brackets and pesky wires, which rub against the inside of your cheeks and cause irritation. That being said, you can expect some discomfort during the first couple of hours after starting a new set of trays. After all, that means it's working! Fortunately, you can start your next phase of treatment at night and sleep through the initial soreness.
What Is the Difference Between Invisalign and Mail-Order Braces?
Mail-order braces are marketed as a safe, cost-effective alternative to Invisalign. However, the American Dental Association and numerous lawsuits suggest otherwise. Since mail-order braces bypass an initial examination and treatment is not supervised by a licensed dentist, patients can end up with loose teeth, a poor bite, and compromised speech. Fortunately, Dr. Nezakatgoo and Dr. Alkhoury believe there is no room for error when it comes to your smile and will go above and beyond to ensure you get the jaw-dropping results you deserve without compromising your oral health!
Do I Have to Give Up Certain Foods?
Patients with traditional braces have to wave goodbye to chewing gum, apples, and other items that can get caught in and around the metal wiring. The good news is the same does not apply to Invisalign! Since the trays are entirely removable, patients can pop them out and enjoy a hassle-free dining experience. Just make sure to wear them for at least 22 hours a day to stay on track with your treatment plan.
How Do I Care for My Invisalign Trays?
Without proper care, the Invisalign trays can stain or warp, leaving you with a discolored smile and ineffective aligners. Therefore, it is of the utmost importance that you clean them by brushing them daily with a toothbrush and toothpaste and using lukewarm water to rinse them frequently. Plus, you can soak them in an Invisalign-friendly solution while eating to disinfect them thoroughly.
What Happens When I'm Done with Invisalign Treatment?
Once you complete your final phase of treatment, you can enjoy the straight, healthy, beautiful smile you've always wanted! However, to maintain the results, it is important to wear your retainer. Otherwise, your teeth will begin to shift back into their previous position and negate all the time you wore your aligners. To prevent this from happening, wear your retainer as much as possible and get a replacement as soon as they break or are accidentally misplaced.