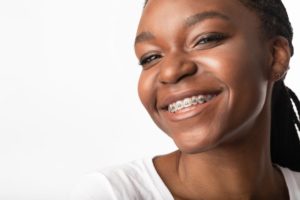 Happy 2021! Have you made your New Year's resolutions yet? January is the best time of year to commit to everyday changes that improve your life. If you wear Invisalign or braces, now's a great time to commit to some simple but important healthy habits for your smile. Here are five excellent New Year's resolutions for orthodontic patients in Framingham!
1.) Brush Thoroughly & Daily
Did you know that some studies indicate that teeth move more effectively and comfortably in a clean, healthy mouth? Of course, that's not the only reason thorough brushing is important during your treatment! Great oral hygiene is essential for preventing issues like cavities and gum disease, which can delay your timeline. Make sure you brush at least twice a day and clean your teeth after every meal and snack.
2.) Learn to Love Flossing
It's no secret that flossing isn't a popular pastime. Even with removable aligners, many people aren't exactly thrilled about flossing. However, this part of your dental routine is essential for keeping your mouth free of lingering sugars, food particles, plaque and bacteria. If you find flossing difficult or awkward, try investing in waxed floss, fun-flavored floss, pre threaded flossers, interdental brushes or a waterpick to make the process easier.
3.) Stick to Your Orthodontic Plan
The effectiveness of your treatment depends a lot on your day-to-day habits. During an Invisalign treatment, it's important to wear your aligners for 20-22 hours every day to keep your treatment on track. If your traditional braces come with extras like rubber bands, you need to wear them as directed to get the best results.
4.) Pass on Sticky, Chewy, & Hard Foods
Traditional metal braces are incredibly sturdy, but they're not indestructible. Really hard, sticky, or chewy foods can damage your braces and easily get stuck between them. This means you should stay away from nuts, popcorn, raw vegetables and fruits and a wide variety of candies like gummies, taffy, gum and more. If you're having trouble sticking with this resolution, focus on all the delicious foods you can eat, like mashed potatoes, smoothies and ice cream! Remember, your beautiful, healthy smile will be well-worth the effort.
5.) Don't Put Off Your Checkups
Thanks to modern dental technology and techniques, it's never been easier to plan out an effective orthodontic treatment. However, you still need to visit your orthodontist regularly for checkups so they can monitor your progress. For both traditional braces and Invisalign, you should be visiting your orthodontist every several weeks for adjustments and evaluations. This way, any potential issues or changes that need to be made can be detected as early as possible and you'll stay on track for your straighter smile.
Braces, Invisalign, and orthodontic treatment of any kind is a commitment to your long-term oral health. Consider adopting some or all these New Year's resolutions and your smile will thank you!
About the Practice
At Simply Orthodontics, we make it simple to achieve your dream smile no matter what orthodontic issues you face. Our talented and compassionate team can help you navigate every step of your treatment to ensure it's as comfortable, efficient and pleasant as possible. We're proud to offer traditional braces, Invisalign and many more options for smiles of all ages in Framingham and the surrounding communities. For more tips on how to keep your orthodontic treatment on track, we can be contacted online or at (508) 250-0170.