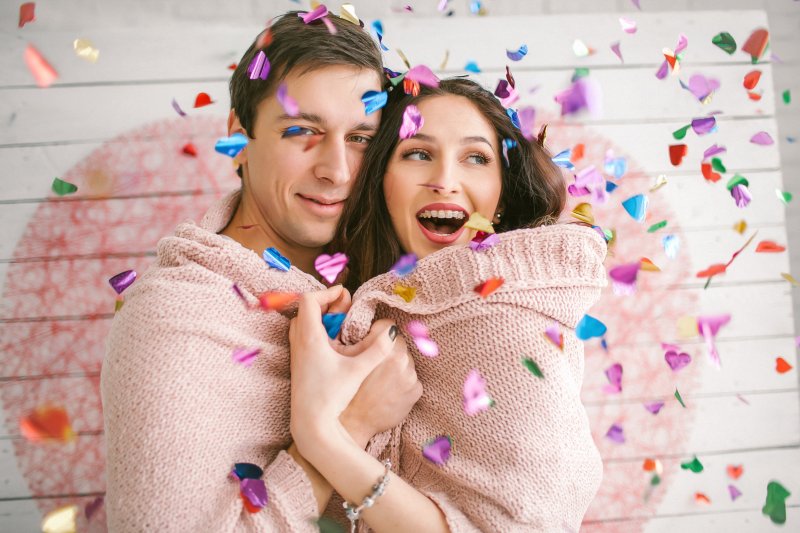 We've all heard the horror stories. Two lovers say their final goodbyes at the end of an amazing evening. The anticipation builds as one leans in for a kiss. It's an incredibly romantic moment – until they are unable to pull away because their braces have become entangled. Awkward! While this situation doesn't happen as often as you think, there are a few things you should know about kissing with braces. Keep reading to learn what they are!
#1. Take It Slow
After your metal brackets and wires are set in place, it takes a few weeks for you to adjust. Just like chewing normally and brushing properly takes some time, so does kissing. So, don't rush the process! Start with closed-lip kisses that apply gentle pressure. That way, there is relatively no risk of any soft tissue being cut or otherwise damaged in the process. In about two weeks, you should begin acclimating to your teeth-straightening solution.
#2. Use Dental Wax
The sharp edges of your braces can irritate both you and your partner's gums and tongue, which can quickly turn a romantic moment into a painful one. To prevent that from happening, apply dental wax to any particularly harsh areas. This will cover rough spots that may accidentally snag or cut your partner, leading to a much more enjoyable kissing experience.
#3. Keep Your Breath Fresh
The last thing you want is to lean in for a kiss only to realize your last meal is lingering on your breath! If you are going out for dinner, excuse yourself to the restroom before leaving to complete your oral hygiene routine. Having a small dental kit on hand that is filled with all the essentials, like a travel-sized toothbrush and floss, can make all the difference. If your date night plans make it nearly impossible to discreetly sneak away, then keep mints close by.
Despite popular belief, your braces won't stand in your way of a phenomenal kiss during the month of love. Just keep the above tips in mind to ensure that it is a safe, enjoyable experience for you and your partner!
About the Practice
Simply Orthodontics Framingham is where amazing smile transformations happen every day. Both Dr. Anna Simon and Dr. Sam Alkhoury are orthodontists that thoroughly enjoy using their extensive experience, advanced training, and comprehensive array of services to craft custom treatment plans that deliver smiles that really wow. If you are ready to leave crooked, crowded or gapped teeth in the past, then don't hesitate to visit our website or give us a call at 508-250-0170.