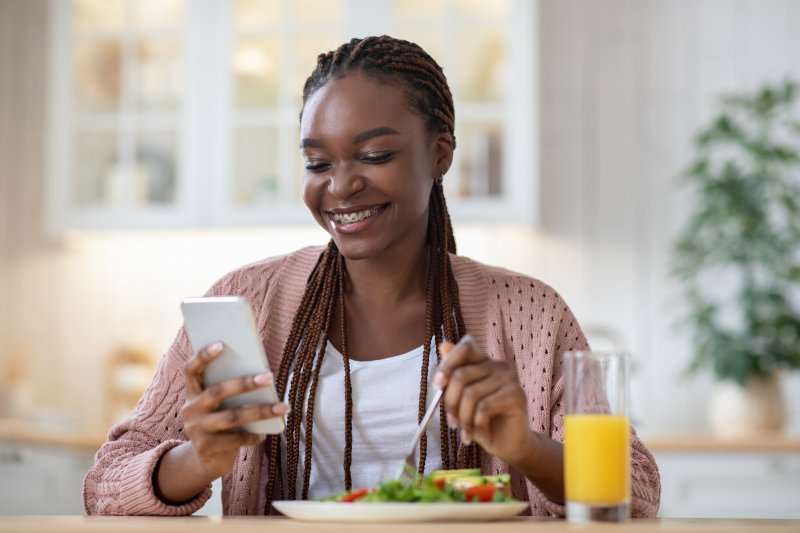 Braces are a tried-and-true teeth straightening treatment. However, the results won't be as beautiful if your teeth are weak, brittle, and stained when it comes time to take them off. Therefore, it's of the utmost importance that you practice good dental hygiene habits, like brushing twice a day and flossing daily. Another important measure that patients often forget is implementing a balanced diet. With this in mind, keep reading for five recommended vitamins for patients with braces!
#1. Calcium
It's no secret that calcium helps keep your bones and teeth healthy. However, did you know it can also protect your teeth from decay and your gums from disease? It's true! So, make sure to fill your plate with calcium-rich foods, like cheese, yogurt, almonds, and beans.
#2. Magnesium
Magnesium is an essential vitamin that isn't talked about enough. Some of its benefits include that it supports normal muscle function, helps you keep your teeth healthy, and keeps your energy up. Leafy greens, bananas, fish, and dark chocolate are a few magnesium-rich foods your taste buds and teeth will enjoy!
#3. Iron
Iron doesn't just regulate your body temperature, it also prevents mouth sores, reduces tongue inflammation, and supports a healthy immune system. If you have low iron or suffer from anemia, try to incorporate spinach, broccoli, lentils, and soybeans into your diet.
#4. Vitamin A
Eggs, melons, sweet potatoes, orange fruits and vegetables, and bran cereals are all rich in Vitamin A. This essential vitamin helps keep your oral health in pristine condition by increasing saliva flow, which rinses away food particles and debris that would've otherwise clung to your teeth. Plus, like the other vitamins mentioned on this list, it supports your bone health!
#5. Vitamin B2
Vitamin B2 is typically found in dairy products and plays an essential role in preventing mouth fissures. If you don't get enough of it, you may experience unpleasant consequences, like secondary burning mouth syndrome. Therefore, it's essential that you include foods like tofu, eggs, fish, mushrooms, and beef in your diet.
Remember, you play an important role in your orthodontic treatment and the condition of your oral health. In addition to brushing, flossing, and visiting your dentist every six months for a checkup and cleaning, make sure to incorporate the above vitamins into your diet!
About the Practice
Our patients at Simply Orthodontics – Framingham benefit from the skill and expertise of two phenomenal orthodontists: Dr. Anna Simon and Dr. Sam Alkhoury. With decades of experience, a comprehensive array of teeth-straightening services, and a down-to-earth demeanor, they've helped countless patients achieve their dream smile while improving their oral health. If you'd like to learn more about caring for your smile with braces or are interested in starting orthodontic treatment, don't hesitate to visit our website or give us a call at 508-250-0170.