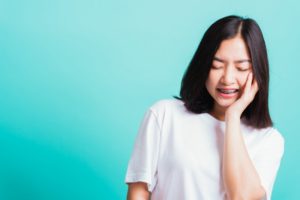 When it comes to correcting complicated, severe, or problematic orthodontic issues, there's nothing more reliable than traditional metal braces. What's more, thanks to modern advancements in dentistry, this orthodontic treatment is now more effective, fast, and comfortable than ever before! Unfortunately, you may still develop some irritation on the inside of your mouth if you don't take the right precautions! Here's how to manage mouth sores caused by braces so that they heal quickly and how you can keep them from forming in the first place!
What to Do If You Have Mouth Sores from Braces
If you're reading this, it's likely that you're in search of relief from uncomfortable mouth sores and irritation caused by your braces. Thankfully, easing your discomfort and encouraging your mouth to heal quickly can be done with a few simple steps:
Take an over-the-counter pain reliever: Products like Ibuprofen are a great choice for managing discomfort from mouth sores as well as having braces tightened.
Use a specialized numbing gel: Many grocery stores and pharmacies sell topical oral numbing gel that can be applied directly onto the irritated tissue to numb it.
Avoid spicy and acidic foods: Not only will these foods make your mouth hurt more, but they can slow down your body's natural healing process.
Rinse with water or mouthwash often: To keep the sores clean and free of bacteria as they heal, rinse your mouth out with water or an ADA approved mouthwash.
Call your orthodontist: If your mouth sores are difficult to control or keep coming back, call your orthodontist. They may be able to adjust your braces to help you be more comfortable.
Do Braces Always Cause Mouth Sores?
Mouth sores with braces are common, but not inevitable. As the soft tissues in your mouth continue to come in contact with the wires and brackets of your braces, they will gradually begin to toughen up, which will protect them from cuts, sores, and irritation. This can be an uncomfortable process, but it shouldn't take too long nor be difficult to manage.
Preventing Mouth Sores While Wearing Braces
While it's easy to treat mouth sores with braces, it's always better to prevent them from forming in the first place! A few simple steps can go a long way when it comes to preventing sores from braces, like:
Wear orthodontic wax: Orthodontic wax is an invaluable tool to have during treatment. This soft, moldable, and biocompatible material can easily be smoothed over sharp parts of your braces to keep them from irritating your soft tissues.
Practice great oral hygiene: Regular and thorough brushing and flossing will clear away debris and bacteria in your braces that can potentially aggravate irritated tissues in your mouth.
Visit your orthodontist for regular checkups: When you visit your orthodontist for regular checkups, they'll monitor the shape of your braces and can make minor adjustments to ensure you stay healthy and comfortable while getting a straighter smile!
About the Practice
At Simply Orthodontics, we're proud to offer a variety of the best orthodontic services for smiles of all ages in Framingham and the surrounding communities. No matter which treatment you're interested in, Dr. Alkhoury, Dr. Simon, and the rest of our experienced team will be with you every step of the way to ensure your journey towards a straighter smile goes as smoothly as possible. If you have more questions about mouth sores from braces, feel free to reach them online or at (508) 250-0170.